20 Apr

Coronets' Corner April 20, 2020

Words from His Excellency, Thegn Clovis,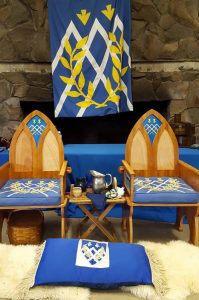 Hello, my friends, I have missed you all. It was wonderful seeing many of you at our virtual Ceilidh on Zoom last Monday. It was especially nice to see Terra Pomarians I have not seen in many years. If you are one of those who struggle with modern technology, please reach out before next month's Ceilidh we will help you get set up or you may use a "call in number" to connect in.
I am excited to let the rest of our Barony know that we, with careful planning, held court at our virtual Ceilidh. Iskander ibn Ji'lid (Alex) was awarded the "Silver Apple" for his outstanding and continuous service to the barony. Iskander was the face of the Barony at last summer's demo at Canterbury. At that demo and others throughout the year he proved himself worthy of high honor for a Terra Pomarian that is so young.
On to some more difficult news. Last week we had a virtual meeting with our Seneschal, Zulaikha, our event steward for Bar Gemels, Duvessa du Movilla, and our event steward for Long and Short of It, Reina Thunderhand. The decision was made to cancel these events for 2020. It is our hope that their bids will be renewed for 2021. (It will be discussed with the financial counsel.) We have not given up hope of having an event this year, and will be looking for opportunities to gather when we are able. We will however proceed with the health and safety of the Barony foremost in mind. Thank you to everyone who has put planning and work into these events; your work is not forgotten
All our love, Thegn Clovis & Baronesa Ximena